1. Enable GA4 in your Cylindo Settings
Google Analytics 4 offers the possibility to use dynamic keys and values for events. Cylindo Users are no longer forced to set and use static values for the dimension and metrics. This means that we don't have to map them in order to make sure the right data gets to the right dimension/metric, now it is enough to enable the GTAG library in the Cylindo Settings along with the GA4 property.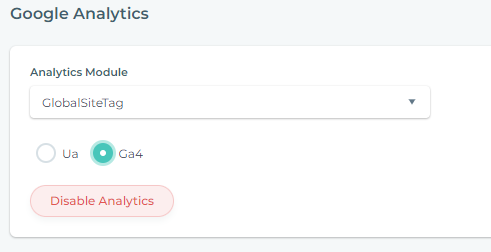 Remember to press "Save" and you're ready to move on.
2 . Confirming the integration is running smoothly
Install the Google Analytics Debugger extension from the link below..
https://chrome.google.com/webstore/detail/google-analytics-debugger/jnkmfdileelhofjcijamephohjechhna
This extension adds a flag on each Google Analytic event to force its visibility in the DebugView from a Google Analytics 4 property.
Open the website where a HD 360 Viewer instance is displayed and GTAG is also enabled and start playing around with the viewer.
Events should start displaying in the DebugView from Google Analytics 4.
If no events are showing, go through the steps again and double-check that you performed all the steps. Also navigate to a product on your website using the Cylindo 360 viewer. Perform some interactions (full screen, zoom, spin, etc.) and check back again. Make sure you are not on an IP that is being filtered out of your data.
Do not hesitate to contact your Customer Success Representative if you experience any issues.
If you would like to also integrate with Google Tag Manager, please refer to the attached PDF.